Events
As a member of a Deutsch-Britische Gesellschaft (Network) you will be invited to all events taking place, e.g. to high-profile lectures, English-language theatre performances, exhibitions, excursions, dinners and many more.
You will have the opportunity to meet other like-minded Anglophiles. Almost all the lectures are held in English and are followed by a discussion period between the speaker and the audience. Please click here to find an overview of past lectures.
Joining a Gesellschaft
We welcome as a member anyone who supports the aims of the Gesellschaft (both private individuals and legal entities). On the websites of the various Deutsch-Britische Gesellschaften you will find the respective membership fees as well as applications forms.
We thank all members who voluntarily pledge higher membership fees for their generosity.
Corporate Membership
Companies and institutions wishing to enjoy the benefits of membership in the Gesellschaft and support its work through Corporate Membership please contact headoffice@debrige.de.
Governance of the Gesellschaft lies with the Governing Board. It determines the guidelines under which the Gesellschaft operates. All board members are appointed on a honourary basis. Its members are:
Thomas Matussek, Ambassador ret.
Chairman of the German Britsh Society since 2021
A lawyer by training and a military officer of the reserve, Thomas Matussek joined the German foreign service in 1975. After three years as First Secretary at the German Embassy in London, dealing i.a. with German-British associations, he worked in the Federal Chancellery under Chancellor Helmut Schmidt, with special responsibility for European affairs. Foreign assignments in New Delhi (press) and Lisbon (economics) followed.
Back in Bonn he served as Head of Foreign Minister Genscher's private office (1991 to 1992) and Chief of Staff for Foreign Minister Kinkel (1992 to 1994). From 1994 to 1999 he was Minister and Deputy Chief of Mission in Washington DC. From 1999 to 2002 he served as Director General for Political Affairs at the Federal Foreign Office with responsibilities for the Middle East, Asia, Africa and Latin America. In 2001 he organized the Petersberg Conference (Bonn agreement), which led to the founding of the new state of Afghanistan.
From 2002 to 2006 he was Germany's Ambassador to the Court of St. James's. From 2006 to 2009 he represented Germany as Permanent Representative and Ambassador to the United Nations in New York. His last assignment in the German Foreign Service was Ambassador to India from 2009 to 2011.
In 2011 he became Head of Public Affairs of Deutsche Bank. From 2013 to 2016 he was Managing Director of the Alfred Herrhausen Gesellschaft, the international forum of Deutsche Bank.
Since 2016 he is senior advisor of the London consulting firm Flint.
Ambassador Matussek sits on a number of boards of national and international nonprofit organizations.
Dr. Rupert Graf Strachwitz, Executive Director of the Maecenata Foundation, Director of the Maecenata Institute for Philanthropy and Civil Society
Deputy Chairman of the Deutsch-Britische Gesellschaft e.V., Member of the Governing Board since 2009
Ph. D., born in 1947, has been involved with not-for-profit organizations for well over 30 years – as a volunteer, staff member, board member, consultant, and researcher, and lecturer. Since 1989, he has been managing director of Maecenata Management, a consultancy that specializes in foundations and associations, corporate citizenship and philanthropy, and since 1997, he has also been the director of the Maecenata Institute for Philanthropy and Civil Society, Berlin. Furthermore, he is Executive Director of the Maecenata Foundation, Munich, Deputy Chairman of the German-British Society, Berlin, Chairman of the Board of the Wilhelm Kempff Cultural Foundation, Munich/Positano. He studied Political Science, History, and History of Art at Colgate University, Hamilton, NY, USA, and Ludwig-Maximilians-Universitaet, Munich, Germany. He graduated as an M.A. in 1974 with a thesis on The Levellers, a 17th century English citizens' action group. After serving at World Headquarters of the Sovereign Military Order of Malta (an international catholic disaster relief and medical aid organization) in Rome for two years, he became regional director for the Order of Malta Relief Service in Bavaria. Subsequently, he held a position in public life while serving on the board of a number of foundations as well as other NGOs, including German Caritas, where he was Vice-President in 1984/85. After becoming an independent consultant in 1989, he became increasingly involved with Third Sector research and chaired the German advisory committee of the Johns Hopkins Comparative Nonprofit Sector Project from 1995-2000. Today, while still acting as a consultant, his main focus is on research and public policy to do with civil society and philanthropy. From 1999 to 2002, he served as member of the German Federal Parliament Commission on Civic Action. He chaired the European Policy Working Group of Europa Nostra (from 2004-2010), and sat on the board of the Fondazione Cariplo, Milan/Italy (from 2000-07), and a number of other nongovernmental organizations at home and abroad. His approx. 400 publications, in German as well as in English, Italian, French, Chinese, Turkish, Japanese, and Polish, include books and articles on foundation issues as well as cultural policy, the third sector, and civil society.
Sven Janssen, BSc MA PhD FRSA, Founding partner and CEO of Tradition Meets Future (TMF Growth)
Treasurer, Member of the Governing Board since 2023
Dr Sven Janssen studied economics and political science at universities in France, Germany, the UK and the USA and completed his PhD in finance and banking at the School of Management of the University of Bath (UK) on the topic of "British and German Banking Strategies", also published as a book by Palgrave Macmillan.
He has been a supervisory and advisory board member in several companies and is passionate about building bridges between established family businesses and innovative start-ups – and, of course, between countries. Sven also holds a professorship and regularly teaches at various universities.
Sven is a founding partner and CEO of Tradition Meets Future (TMF Growth), a Berlin-based investment platform that focuses on private debt solutions and corporate finance for tech-enabled European growth companies.
He began his banking career in 1999, focusing first on mergers and acquisitions and subsequently on capital markets financing. Among others, Sven worked for the family-owned banks Metzler, Sal. Oppenheim and Oddo and was a board member of an ESMA-regulated credit rating agency, for which he also established the ESG business.
Andreas Krautscheid, Former Minister of State
Chief Executive, Bundesverband Deutscher Banken
Secretary, Member of the Governing Board since 2018
Andreas Krautscheid has been Chief Executive of the Association of German Banks, the voice of over 200 private German and foreign banks, since the beginning of 2018. From 2011, he was a member of the Senior Management Board, in charge of Political Affairs, Legal Affairs, Fiscal Affairs, Retail Banking and Digitalisation. During the past two years, he has been driving forward the association's cooperation with fintechs, over 20 of which are already active within the association.
Mr Krautscheid brings with him a wealth of experience in both the business sector and high political offices. He was first State Secretary and then, from 2006, Minister for Federal and European Affairs and for the Media of the State of North Rhine-Westphalia. In the 1990s,
Mr Krautscheid, a lawyer, was a Member of the German Bundestag, dealing particularly with international issues. His career in the business sector included spells as Head of Group Communications at the German subsidiary of a British company and Head of Regulatory and Competition Policy on the Board of Deutsche Telekom AG.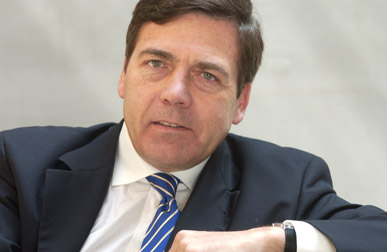 Siegmar Mosdorf, former Parliamentary State Secretary, Partner and Chairman CNC AG Berlin
Member of the Governing Board since 2005
Siegmar Mosdorf is Partner and Chairman of CNC AG in Berlin. From 1999 to 2003 he was the Chairman of the Board of the Deutsche Ausgleichsbank and currently carries out various duties. He also is a lecturer at the University of St. Gallen. From 1998 to 2002, he was Parliamentary State Secretary to the Federal Ministry for Economics and Technology, and worked as aerospace co-ordinator for the Federal Government. Between 1990 and 2002, Mr Mosdorf was Member of the German Bundestag and Member of the Committees for Economics, Transportation, Research, Technology, Foreign Affairs and Sport. Until 1990, he was the Social Democratic Party of Germany (SPD) whip for the State of Baden-Württemberg. Between 1995 and 1998, he was Chairman of the Enquiry Commission for "The Future of the Media". Mr Mosdorf was a consultant in trade union affairs to the Works Council and Supervisory Boards of Daimler-Benz, Bosch, IBM, HP and Porsche from 1978 to 1982. He studied Economics, Law and Social Sciences at the University of Constance.
Dr. Ruprecht Brandis, Senior Adviser Europe, bp
Since 2021 in his capacity as Chairman of the Königswinter Stiftung ex officio Member of the Governing Board
After military service, banking apprenticeship, law school, PhD and a short-term employment as lawyer Ruprecht Brandis worked as an official in the Federal Economics Ministry, the German embassy in Washington D.C. and in the Federal Chancellery. In parallel he obtained a MBA degree in the period between 1997 and 1999. From 2001 – 2003 he practiced law again. In 2004 Ruprecht Brandis joined bp, first as deputy head of its Berlin office and from 2010 until September 2021 as office head and Director External Affairs Germany. Since October 2021 he is Senior Adviser Europe in Communications & Advocacy of bp.
Annika Müller de Vries, Head of Training, Deutsche Bundesbank
Since 2018 in her capacity as Chairperson of the Young Königswinter Alumni ex officio Member of the Governing Board
The office of the Deutsch-Britische Gesellschaft Berlin is responsible for the organisation of the lecture programme for Berlin and Brandenburg and the organisation of the Königswinter Conferences. It is also the point of contact for updates and additions to this website.
If you are interested in receiving regular information on events organised by the Deutsch-Britische Gesellschaft, please send an e-mail to headoffice@debrige.de
The office staff is reachable in person on a full time basis. By telephone the office can be contacted around the clock (answering machine) as well as via post, e-mail and fax.
Head of Office
Mari Mittelhaus
Address
Deutsch-Britische Gesellschaft e.V.
Pariser Platz 6
10117 Berlin
Tel + 49 (0) 30 – 203 985 - 0
Mob + 49 (0) 176 – 442 648 65
Fax + 49 (0) 30 – 203 985 - 16
headoffice@debrige.de
www.debrige.de
debrige_berlin
The Honourary Presidents are outstanding figures of public life selected for their exceptional engagement in the field of German-British relations and their long-standing support of the Königswinter Conference:
Prof. Dr. Kurt Biedenkopf †
The Lord Dahrendorf †
Dr. Katharina Focke †
Dr. Jürgen Großmann
Dr. h.c. Karl Günther von Hase †
Dr. Dr. h.c. mult. Johannes Rau †
Dr. Jürgen Ruhfus †
Dr. h.c. Walter Scheel †
Dr. h.c. Helmut Schmidt †
Dr. Richard Frhr. von Weizsäcker †
The Königswinter Stiftung was founded in 1995 by Professor Marcus Bierich, former Chairman of the Supervisory Board of Robert-Bosch GmbH. The Foundation aims to deepen the partnership between Britain and Germany within the framework of a united Europe as well as to promote the work of the Deutsch-Britische Gesellschaft. The Foundation's returns on the capital invested are allocated to finance projects of the Gesellschaft.
Chairman of the Board
Dr. Ruprecht Brandis
Director External Affairs, BP Europa SE
Marcus-Bierich-Lecture
Named in honour of its initiator, the Marcus-Bierich-Lecture series was established in October 2002. Since then high-profile speakers have presented their positions on current issues of German-British relations:
2002 - Lord Dahrendorf held a talk on European models for order.
2003 - Dr. Wulf Bernotat, Chairman of the Board, E.ON AG spoke about the challenges faced by the European energy industry and energy policy.
2005 - Prof. Dr. Berthold Leibinger, Managing Partner of the TRUMPF-Gruppe in Stuttgart, held a lecture about "The Responsibility of the Entrepreneur in Our Society".
2007 - Dr. Klaus von Dohnanyi, former First Mayor of the Free and Hanseatic City of Hamburg, lectured on "Global Success and Regional Responsibility. Entrepreneurial Action in an Open World."